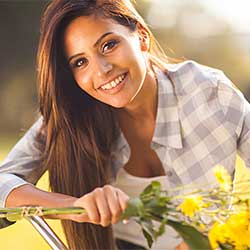 Getting Images into Photoshop – Complete Guide
Learn the many ways of getting your images into Photoshop with Chapter 2 of our Photoshop training series! Includes how to open images from Lightroom, Camera Raw, Adobe Bridge and more!
Before we can do anything with our photos, we first need to get them into Photoshop. Opening images may not sound like a topic that needs an entire series of tutorials. But Photoshop is no ordinary program. And like pretty much everything we do in Photoshop, there's more than one way to open an image.
In this chapter, I take you through each of them. We start in lesson 1 by learning how to set Photoshop as our default image editor in Windows 10. And in lesson 2, we learn how to set Photoshop as your default image editor in Mac OS X. Lesson 3 shows you how to create new Photoshop documents from scratch, and in lesson 4, you'll learn how to open existing images in Photoshop!
Lesson 5 is all about Adobe Bridge, the file browser included with Photoshop, and why it's a better way to select and open your images. The only problem with Bridge is that it can sometimes open a file in the wrong program. We fix that in lesson 6 by learning how to set up file type associations in Bridge!
In lesson 7, you'll learn how to open images directly into Camera Raw, Photoshop's powerful image editing plugin. And, if you're an Adobe Lightroom user, you'll want to learn how to move your images from Lightroom into Photoshop for further editing. Lesson 8 covers how to move raw files from Lightroom to Photoshop, while lesson 9 shows you how to move JPEG files between Lightroom and Photoshop. And finally, in lesson 10, we finish off this chapter by learning how to close our images in Photoshop, including how to close all open images at once!
Need printable versions of these tutorials? All of our Photoshop tutorials are now available to download as PDFs! Let's get started!